Posts Tagged 'Rally'
The 2019 Dakar Rally is going to kick off in a few weeks. Aleš Loprais, his Spanish navigator Ferran Marco Alcayna, and chief mechanic Petr Pokora will set about a rally raid on January 6 in Lima. The racing team has to go through 10 stages in the truck category.
The team had been fine-tuning their Tatra at the workshop in the town of Frenštát pod Radhoštěm until the departure. Eventually, InstaForex Loprais Team left for Le Havre, France, to arrange some administrative formalities. There, they will embark on board a ship to sail to Peru.
"If we had been given one more week for preparations, we would be still working on the car as there is always something to do. The development of our racing Tatra is our everyday routine and it's a long-term process. While our fleet is heading to America, I've moved to Dubai to practise in the sand dunes until the end of the month as Dakar Rally organisers are promising about 70 per cent of sand."
Aleš Loprais debuted at the Dakar rally in 2006 as a navigator for his famous uncle. Since then, Aleš has not missed a single rally. On the whole, he has participated in 12 Dakar races, won 9 stages, and finished 5 times in overall TOP 10. In early January, the Tatra truck of InstaForex Loprais Team bearing number 507 will face the racing challenge.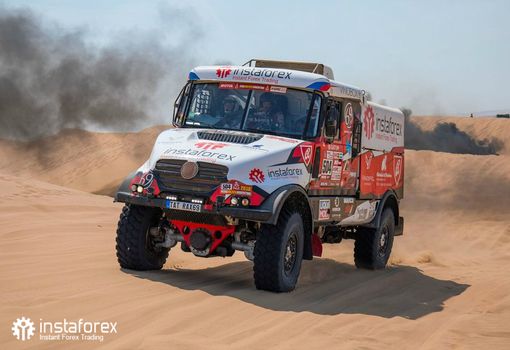 InstaForex international broker has launched a new website dedicated to "InstaForex Loprais Team". Now you can learn more about the team, its glorious victories in large-scale contests, hard working days and leisure time on "instaforex-loprais.com". The photos, video materials and topical news from breath-taking tournaments placed in the corresponding sections of the web-resource will take you into the world of racing and will make you feel one of the rally participants. The newly launched website will be interesting for both supporters of racers and amateurs of fast driving and powerful cars.
The idea of creating InstaForex Loprais Team was put forward by InstaForex Company in May 2011 and implemented on the basis of Tatra team. The rally truck team is led by Czech racer Ales Loprais. He was twice one of the three winners at large-scale international tournaments Dakar Rally 2007, Central Europe Rally 2008 and Silk Way Rally 2009.
In 2011 Ales won Silk Way Rally as an "InstaForex Loprais Team" racer. This victory is particularly remarkable as we managed to be the first among many-year leaders of Silk Way and Dakar – Kamaz Master team.
One of the most important events for any racer is expected in early 2012  – Dakar Rally which is to be partaken by one of the best contest participants InstaForex Loprais Team in the truck category. After Silk Way Rally victory our team is striving to achieve more impressive results in this great rally raid.
Trade and win with InstaForex!
Added by Ekaterina Abramova
,
InstaForex
PR-manager